Feel the power of a Host Gecko Windows Dedicated Server Today!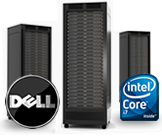 Host Gecko offers value managed dedicated servers running your choice of Windows 2003, 2008 server (data center, enterprise or standard). We pride ourselves on speedy delivery of provisioned servers in as little as 10 minutes. The Host Gecko provides your server in 24 hours after ordering GUARANTEED or your first month is FREE! We also provide FREE dedicated server management ($200 value).
Having a your own dedicated server will provide your sites with a higher level of speed, online security, and uptime. You will have the capability to go far beyond the resource limitations found in a shared hosting environment. Our servers can be provisioned with 100 Mbit or 1000 Mbit connections as well as numerous IP's.
»Basic Dedicated Server
Intel Xeon 3040 (Dual Core)
1 GB DDR2 Memory
250 GB Hard Drive
1,500 GB Bandwidth
5 Dedicated IPs
»Standard Dedicated Server
Intel Xeon 3040 (Dual Core)
4 GB DDR2 Memory
2 X 250 GB Hard Drive
1,500 GB Bandwidth
13 Dedicated IPs
»Elite Dedicated Server
Intel Xeon 3210 (Quad Core)
4 GB DDR2 Memory
2 X 500 GB Hard Drive
2,500 GB Bandwidth
13 Dedicated IPs
»Pro Dedicated Server
Intel Xeon 3450 (Dual Core)
8 GB DDR2 Memory
2 X 250 GB Hard Drive
2,500 GB Bandwidth
13 Dedicated IPs

Dedicated Control Panels
Create and manage web hosting accounts for your clients quickly and easily with Parallels Plesk.

Easy SiteBuilder
Our FREE Site Builder will allow you to easily create a professional looking website within minutes.
Free Software
All dedicated servers include a free SmarterBundle Professional license and Expression Web Software. Click for more info.


Windows Dedicated Server Features...

Windows Server 2008 R2 w/ Remote Desktop (64-bit w/ 32-bit compatibility)
Parallels Plesk Control Panel 9.x
IIS Web Server, MSSQL, Mysql, FTP Server, DNS Server
SmarterMail Professional Mail Server
Secured Server with Windows Firewall & IPsec Policy
Safe Harbor Certified (Details)
Free With Each Dedicated Server...

Free WHMCS or WHM AutoPilot Client Management / Billing software
Create SiteBuilder Accounts for Your Customers
Free Enom Domain Name Reseller Account
Free Website Transfers for Unlimited Websites
Provide Customers with 4,500 Website Templates (View Website Templates)
WHM Control Panel Features...

Latest WHM Control Panel with Multi-language Availability
Complete Control of all Server Settings, Services, and Accounts
Fantastico Installation Management
Reseller Management
Brandable Control Panel with your Company Logo
Control Panel Features...

Latest cPanel Control Panel
Website Statistics: AWStats, Webalizer, Raw Log Manager, Referrer and Error Logs
Fantastico: Instant Shopping Carts, Blogs, Portals, Forums, Counters, Formmail
Password Protected Directories and Custom Error Pages
Web Based File Manager, Hotlink Protection, IP Deny Manager, Redirect URL
Programming and Database Features...

Unlimited MySQL Databases with phpMyAdmin Access
Programming Language: CGI, Fast CGI, PHP 5, Ruby on Rails, ...Programming Modules: Curl, CPAN, GD Library, ImageMagick
System Management: SSH Access and Cron Job Scheduling
FrontPage Extensions
Email Features...

Unlimited POP3 Email Accounts with SMTP
WebMail Access: Horde, SquirrelMail, RoundCube
Receive your email to your phone via IMAP Support
Prevent spam with SpamAssassin
Unlimited Autoresponders, Mail Forwards, Email Aliases, Mailing Lists
Top of the line network

Gigabit uplink with a guaranteed 20mbit connection
Fully redundant network with no single point of failure
Multiple layers of network security
Multiple bandwidth providers (AboveNet, ATT, Comcast, Global Crossing, Level(3), NTT)
State of the art Data Center with backup power generators and HVAC units.
Award Winning Support...

24/7/365 Premium Support via Phone, Live Chat, and Ticket System (Email)
24/7/365 Server Monitoring
Online Support Portal with over 500+ Video Tutorials and 680+ Help Articles
hostgecko Community Forum Access
Purchase a Windows Dedicated Server Today!
Windows Dedicated Server